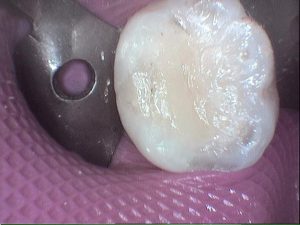 Endodontic treatment is a process that requires several appointments and is a great way to save your tooth instead of extraction. The aim of treatment is to sterilize and disinfect the tooth's pulp space and prevent infection recurring. During a course of treatment, the aid of oral antibiotics may be required. This is a great way to maintain and save your teeth rather than having an extraction and a more costly replacement with a dental implant. Several x-rays of your tooth will be required during treatment to assess the progress of healing.
Once treatment is commenced patients are surprised how straightforward the procedure is. They often have a sleep in our chair while it is happening.
After completion of your root canal treatment, the best way to preserve your tooth is to have a crown placed as a protective cover. Often people will progress through and finish root canal treatment only to then crack or split the tooth as a crown hasn't been done.